Hair loss, while common, can be distressing. When nonsurgical methods are not effective to slow, stop, or restore hair loss, there are surgical options that can transform your scalp. Beautiful Orlando Medspa & Cosmetic offers hair transplant surgery, which is an FUE (follicular unit extraction) technique. This advanced technology is used to track and extract hair follicles with precise accuracy and control. The surgical process involves using a small rounded instrument or "punch" to remove individual hair grafts. These grafts are safely prepared and then transplanted to the area where thinning and balding has occurred. While the FUT ("strip method") procedure produces excellent results, FUE is often preferred because it is minimally invasive, it does not involve the use of a scalpel or stitches, and it does not leave scars. Call Beautiful Orlando Medspa & Cosmetic's Kissimmee, FL office today and learn more about this outstanding hair restoration treatment.
Dr. Sabharwal is proud to offer his patients the FUE procedure, considered one of the most advanced, automated hair restoration systems in the field. In a very methodical manner, individual hair follicles are delicately removed by a suction assisted handpiece. These follicles are then safely collected and stored in a temperature-controlled, sterile, holding solution and remain hydrated and active while awaiting implantation. No cutting or scalpel is needed, thus both the extraction location and transplant location do not require stitches.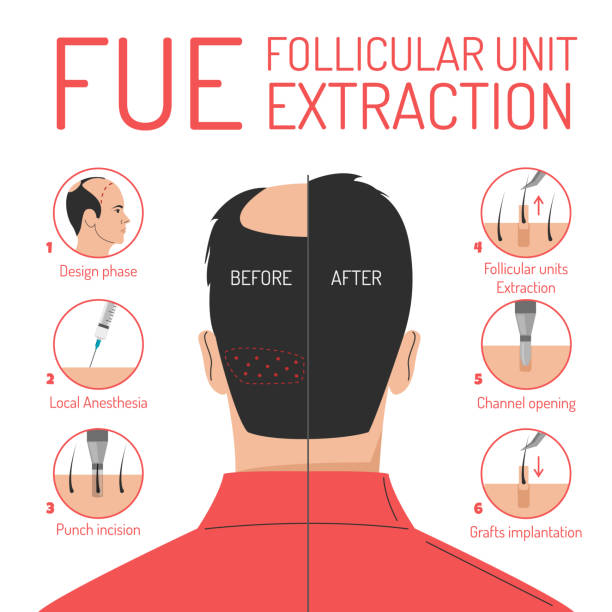 FUE is recommended for patients of all hair textures, types, and color who do not want an invasive hair transplant approach. It is performed on those with advanced hair loss, as well as those who wish to increase thickness to thinning areas. Patients that wear their hair short will also benefit from this approach, as there are no visible scars. Dr. Sabharwal can also perform FUE to help achieve aesthetic improvements to the scalp for patients who have visible linear scarring, such as from a previous FUT hair transplant procedure.
FUT
FUT (follicular unit transplantation) is an alternative hair transplant technique that produces similar results. It is done by removing a strip of skin from the back of the head and then inserting the hair grafts into the donor site. This was the first hair transplant method discovered, thus it is not as advanced as FUE. While it is a quicker technique, a long scar is typically visible since the area where the skin was taken must be stitched. FUT can still produce great results for patients looking to add volume.
Reviews
"Great service! Amazing staff and very caring medical doctor. Highly recommend the spa and the doctor for your medical needs."
- R.S. /
Facebook /
Mar 11, 2017
"Muy profesionales! buen trato y buenos precios, me gusto mucho, volvere 😀 Lo recomiendo."
- S.D. /
Google /
Mar 12, 2020
"From: (941) 787-9410 Received: Friday, February 03, 2023 at 8:31 AM Message: Good morning to all ! Just want to THANK You all for this Procedure as it was done yesterday to my high satisfaction ! Truly ,great team you are all and specially surgeon and anesthesiologist. Jacek Truszkowski"
- JT /
Other /
Feb 06, 2023
"Go here for my b12 injection great service,wonderful staff,highly recommend!"
- L.L. /
Facebook /
Apr 12, 2022
"Wonderful place professional stuff and best Botox price in all Orlando , I highly recommended beautiful Orlando"
- R.A. /
Facebook /
Jan 01, 2022
Previous
Next
FUE offers excellent outcomes, but understandably, patients may feel apprehensive about having this surgery. During the consultation, Dr. Sabharwal will provide as much information as possible so that each patient feels confident in the decision-making process. The majority of our FUE procedures start in the morning directly inside our Beautiful Orlando Medspa & Cosmetic treatment room and end in the late afternoon — the length of time varies depending on the volume of hair being transplanted. However, this technique usually averages about 6-8 hours. Patients are encouraged to wear comfortable clothing and are able to watch TV or listen to music during the procedure.
During the consultation, Dr. Sabharwal will go over the aesthetic goals of the patient, and will provide an approximate number of grafts that will need to be extracted to obtain the desired results. The donor area where the hair will be extracted is located in the back of the head, as this is an area where hair growth is constant and permanent. The donor hair, removed in follicular units, typically includes a group of about one to four hairs. The hair removal process is performed in a meticulously randomized pattern, so that the hair around the extracted grafts will grow back and camouflage the virtually undetectable, flat "micro-dots" left from the FUE procedure. Once transplanted, each hair follicle will grow in its new location.
The transplanted area, or recipient sites where the donor hair will be relocated to will be analyzed by Dr. Sabharwal. He will determine the correct angle, depth, orientation, and density required to achieve natural results. The number of grafts and/or number of procedures required to achieve the patient's desired look depends on individual patient characteristics, such as degree of hair loss, donor hair quality and texture, and follicular density.
PRP, or platelet rich plasma, is a concentrated mixture of powerful growth factors that is produced from a small quantity of the patient's own blood. Dr. Sabharwal bathes the extracted hair grafts and injects this concentration of growth factors into the treated areas to help with tissue repair, healing, and hair growth.
Because FUE is minimally invasive and does not require the use of a scalpel or stitches, there is minimal post-operative pain. Anti-inflammatory medications and painkillers may be taken in order to prevent any discomfort. Most patients can return to their normal activities within a few days. But hats and hair accessories should be avoided for about 1 week. It is important to follow the specific post-operative instructions to ensure effective healing and hair growth. On the first day following the procedure, small scabs the size of a pinhead surrounding the transplanted hair follicles will likely be visible. These scabs usually go away within 7 - 10 days. Patients should expect to see the donor site at the back of the head return to normal about 7 - 10 days after surgery. A few weeks after surgery, the transplanted follicles enter a resting phase that lasts for several months, and will fall out to make way for new, healthy hair. This is to be expected. The follicles are alive and healthy under the skin. At this point, most patients will look very much like they did prior to surgery until the new hairs begin to grow.
New hair growth begins about 3 - 4 months after the procedure. By 7 months, around 50% of the newly transplanted hair begins to grow, and by 9 months, close to 80% of the hair grafts will be growing. By 12-18 months, the areas where hair loss once occurred will be filled in with thicker and fuller hair, leaving patients excited about their results.
Plan Your Procedure
Procedure Recovery Location

Out-Patient
Contact Us
With FUE, natural appearing hair is crafted to create life-changing, lasting results. It is a safe procedure with very high success rates. Patients can wear their hair any length or style, as the transplants produce natural, normal hair growth. It's also important to note that hair loss is a progressive disease and that hair transplant surgery does not stop non-transplanted hair from continuing to thin and eventually bald. Therefore, further nonsurgical and/or surgical treatments may be needed to keep up with the rate of continuing hair loss.
FUE generally does not produce any scarring. The extracted grafts removed during the hair removal process will leave undetectable, flat "micro-dots". These tiny "micro-dot" scars may be visible if the hair is completely shaved. You may shave your hair down to 1/8th of an inch (1 guard on an electric razor) without anyone noticing your scars.
Small graft extraction using the FUE approach offers numerous benefits, including:
Minimally invasive without the use of a scalpel or stitches
Precise and efficient extraction, collection, and storage of hair grafts
Minimal post-operative pain
Quicker recovery
Virtually undetectable flat "micro-dot" scarring
FUE has been seen to have a higher success rate than FUT. The recovery process is also quicker. However, regardless if a patient decides to go with FUE or FUT ("strip method"), the results where the transplant occurs will appear similar. The difference is in the graft extraction technique in the donor area. FUT does leave a linear scar so it is reserved for patients who wear their hair a bit longer.
Get a Fuller Head of Hair!
If you are experiencing thinning hair or balding and are living with anxiety over losing your hair, we encourage you to call our Kissimmee, FL office today. Dr. Sabharwal will provide you with a thorough consultation and a detailed treatment plan, to provide you with an effective, lasting solution.
Related Post